Radix Training Workshops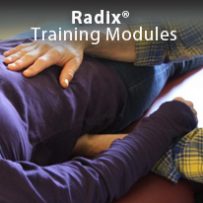 Training in the Radix Approach is offered in a modular format. Training workshops are 5-6 day intensive workshops. 
Module 1 is an introduction to the theory and practice of Radix, and it's historical roots in the work of Wilhelm Reich. Participants will learn practical skills that can be applied to traditional verbal therapy or skills that will complement other somatic trainings. Module 1 provides a good grounding for the other training workshops & is recommended  before attending further modules. It is open to mental and physical health practitioners who work with people to promote healing and personal growth, as well as to those who wish to deepen their own personal growth through a body-centered modality.
Europe: August 31 – September 4, 2018
Module 2 – Understanding and Engaging with the Vitality of the Body-Mind
Module 3  – Facilitating Presence and Grounding from an Energetic Perspective
Modules 2 and 3 will be offered together: 
United States: June 27 – July 2, 2018
Europe: January 24 – 29, 2019
Module 4 – Embodiment for Support, Boundaries, Regulation
Module 5 – Affect:  Experience, Expression and Regulation
Modules 4 and 5 will be offered together:
United States: October 22-27, 2018