The Radix Workshop Experience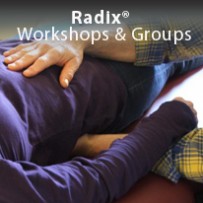 About the Workshops
The body in Psychotherapy and Counselling
This is an introduction to the theory and practice of Body Centered Psychotherapy and how it relates to traditional psychotherapy & counselling. Participants will learn practical skills that can be applied to traditional verbal therapy or skills that will complement other somatic trainings. This workshop provides a good grounding for the other workshops & it is recommended – although not essential -that you attend this before attending the following.
Attachment
Much has emerged in the last ten years about the significance of somatic work in the healing of attachment issues. Participants in this workshop will explore attachment issues from a somatic perspective. The workshop will endeavour to deepen their understanding of the processes involved in the development of secure attachment and expand their knowledge and skills for working with insecure attachment issues with adult clients.
About Narelle McKenzie:
Narelle is a clinician with over 35 years experience in private practice and 25 years as a trainer in Radix Body Centered Psychotherapy. She has extensive post-graduate training and has run hundreds of experiential & training workshops. Narelle is highly valued and recognized in the international Radix community as a leading, innovator and clinician in the field of Radix Body Centered Psychotherapy. She is the Director of Radix Training in Australia, USA and Canada. Narelle is a skilled teacher and her presentations are rich with a deep understanding of the relationship between the body and psyche.
To be on the mailing list for more detailed information about these workshops, or to simply obtain further information email Narelle to express your interest at narellemckenzie@internode.on.net