Publications – Store
Products/ Publications
LIFE FORCE – Charles R. Kelley

321 pages; Perfect bound; catalogue #04-0166; ISBN 1-4120-2338-6;
US$23.95, C$30.99, EUR19.99, £13.99 plus shipping. Details available at  www.trafford.com/robots/04-0166.html
Charles R. Kelley founded Radix, and later retired from directing the Radix Institute in 1987. As this new work of Kelley demonstrates, he continued to evolve his theory, as indeed the members of the Radix Institute continue to evolve the theory and practice of Radix.
You may also order directly from the author by sending your shipping address and $29.00 (includes handling & shipping within the USA; other countries please add $5 for surface mail, $10 airmail). You may pay either via PayPal to the Kelley/Radix account or by check to Kelley/Radix at: 917 Topeka Lane  Vancouver, WA 98664-1150  USA.  Phone & Fax: 360-750-4406.  E-mail: ericakelley@comcast.net.
Click here for a list of publications by Charles R. Kelley, PhD, or download an order form.
To go directly to the media page of the Kelley/Radix website click here.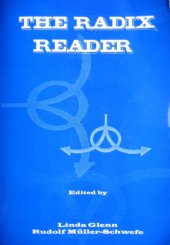 The Radix Reader A Neo-Reichian approach to human growth
Edited by Linda Glenn, Ph.D. and Rudolf Müller-Schwefe, 1999. Heron Press. Published by The Radix Institute.
The Radix Reader is a compilation of writings extending over the history of the Radix movement, and conveys something of the aliveness and creativity of this body-centered approach while, at the same time, setting forth its unique identity and contributions.
To order by Paypal or credit card

Radix Reader $30
ON SALE – Now only $30 Including shipping and handling!
Contents
Preface: Rudolf Müller-Schwefe
1. Introduction and History
Narelle McKenzie: Our Eyes
William Thrash: An Introduction to Radix Education
Werner Pitzal: The Radix Approach: A Brief Description
Rudolf Müller-Schwefe: Roots of Radix
2. Basic Concepts
Lillian Davis: Introduction to Basic Concepts
Rudolf Müller-Schwefe: Pulsation
Lillian Davis: Integration
Linda Glenn/Austin Glenn: An Adaptation Model of Ego
3. Character and the Way of Working
Joel Isaacs: Anger Blocked by Fear
Will Davis: An Introduction to Instroke
Stephen Atkinson: The Journey from Symbiosis to Differentiation
4. Development and Radix Work
Mark Ludwig: Swimming in a Human Sea
Werner Pitzal: Contact and Relationship
5. Clinical Issues
Mary Ann Kilmartin: Verbal Work in Radix Education
Pam Morgan: Radix Education and Codependency
Wendy Yellen: Radix Techniques in Verbal Work with Incest Survivors
Babette Rothschild: Shock Primer for the Radix Teacher
6. Language and Passion of the Practitioner
Andrea Pitzal: Love and Relationships
Rudolf Müller-Shwefe Radix Glossary
/Lillian Davis
/Werner Pitzal
/Nelly Pasque
/Micha Krenz
/Deborah Motley
7. Bibliography
7.1. Bibliography
7.2. Authors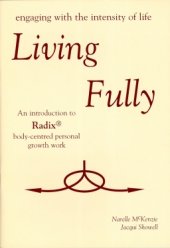 Engaging with the Intensity of Life – Living Fully
An Introduction to Radix Body Centered Personal Growth Work by Narelle McKenzie & Jacqui Showell.
"The Radix Process teaches each person a deep respect for their being"
This booklet is for:
People doing Radix work or considering starting Radix work, who want a conceptual understanding of the approach,
Anyone wanting to refer clients to Radix,
Those who are simply curious about Radix work and what it involves.
To order, click on the Purchase button below. $11.50.
Contents
Acknowledgements
Preface
Introduction
The Aims of Radix Work
Assumptions about Healing
About some Terms Used
What is Radix? Key Concepts of Radix
The History of Radix
The Radix
Pulsation of the Radix
Body Segments
Centering and Grounding
Boundaries
Containment
How is Radix done? Therapeutic Tools
The Role of the Therapist
Verbal Work
The Breath
Vision
Sound
Touch
Movement
Why do Radix? Benefits and Perspectives of Radix
Radix and Emotions
Trauma and Abuse
Physical Health
Self Esteem
Sexual Issues
Radix and Relationships
Radix, Spirituality and the Purpose of Life
How can you do Radix work?
Training undertaken by Radix Practitioners
Licensing