The Radix Somatic Approach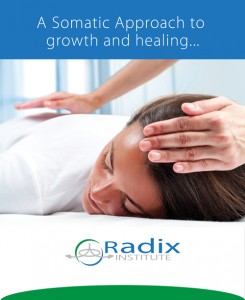 RADIX¨ is a body-oriented personal growth practice, derived from the work of Wilhem Reich, MD, and Charles Kelley, PhD.  Kelley established a well-grounded training program which incorporated Reich's principles of bodywork, enhanced by eyework developed from the Bates Method of vision improvement. Radix Theory and Training now incorporate current sciences of neurobiology, attachment theory and Human Development.

Read More
Recent Radix Articles

December 23, 2017 |
Register now! Florida, 2/28/18 – 3/4/18… Germany:  9-13 April, 2018… Australia:  11-15 April,...
Read More