The Radix Somatic Approach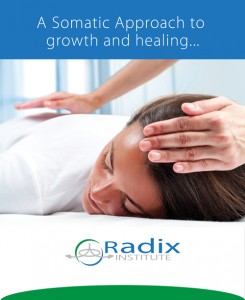 RADIX¨ is a body-oriented personal growth practice. It was developed originally by Charles Kelley, PhD, who established a well-grounded training program which incorporated Reich's principles of bodywork, enhanced by eyework developed from the Bates Method of vision improvement. Dr. Kelley chose the word "Radix" from the Latin work meaning "root" or "source," referring to that force which underlies all movement, feeling and growth in a person and in life.
Read More
Recent Radix Articles

February 21, 2016 |
Radix Institute Training Program for Professionals – Radix training may be taken in many places throughout...
Read More